Share:

The USD/CAD is recovering for Friday after slipping to 1.3425.
Rising oil prices are bolstering the CAD, but the USD has been finding market support.
Canadian Retail Sales rose for July, but slightly less than expected, reducing CAD upside.
The USD/CAD is set to finish out Friday near where it started, trading just south of 1.3490.
The Loonie (CAD) has twisted through the back half of the trading week, with the CAD and (Greenback) playing tug-of-war.
Rising oil prices have been boosting the CAD lately, but a break in crude gains sees the USD/CAD testing back into recovery territory.
Canadian Retail Sales rose 0.3% in July, slightly below market expectations of 0.4% but an improvement on the previous month's -0.7%, which was revised upwards from -0.8%.
Core Retail Sales (retail sales figures less automobiles) rose 1% for the same period, breezing past analyst forecasts of 0.5%.
On the US side, Purchasing Manager Index (PMI) figures came in mixed, seeing a brief slip in the US Dollar but capping off the potential for a determined move in either direction for the USD.
The preliminary US S&P Global Manufacturing PMI for September climbed to 48.9 against the expected 48, easily clearing expectations. The Services PMI component slipped analyst forecasts, dipping to 50.2 and reversing the expected improvement to 50.6.
Read more: 
US S&P Global Manufacturing PMI improves to 48.9, Services PMI declines to 50.2 in September
The economic calendar is on the thin side for next week, but investors will be keeping one eye out for US Durable Goods Orders next Wednesday. Markets are expecting durable goods orders for August to print at -0.4%, a declining figure but still an improvement from the previous period's 5.2% decline.
USD/CAD technical outlook
The USD/CAD is trying to recover from near-term lows into 1.3380, and is seeing the 200-hour Simple Moving Average (SMA), currently capping off intraday action from 1.3500.
The pair is 1.6% down from September's peak just below the 1.3700 handle.
Daily candlesticks sees the USD/CAD stuck into the 200-day SMA, and market sentiment could flow in either direction moving forward.
USD/CAD daily chart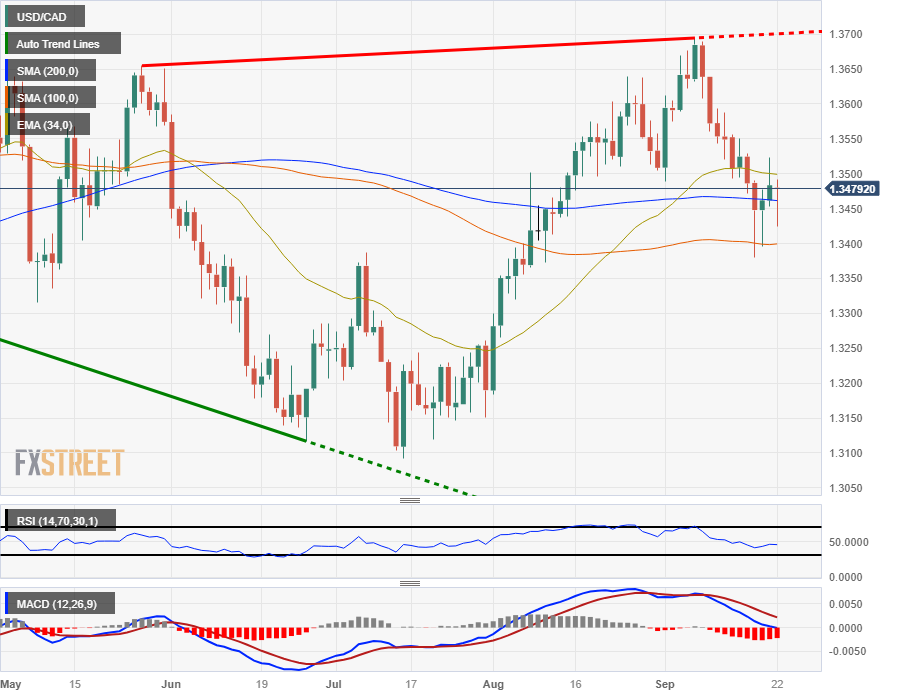 USD/CAD technical levels

منبع: https://www.fxstreet.com/news/usd-cad-recovers-from-fridays-lows-to-inch-closer-towards-135-202309221940