The weekly Oil inventory reports published by the American Petroleum Institute (API) and the Energy Information Agency (EIA) impact the price of WTI Oil. Changes in inventories reflect fluctuating supply and demand. If the data shows a drop in inventories it can indicate increased demand, pushing up Oil price. Higher inventories can reflect increased supply, pushing down prices. API's report is published every Tuesday and EIA's the day after. Their results are usually similar, falling within 1% of each other 75% of the time. The EIA data is considered more reliable, since it is a government agency.
Like all assets, supply and demand are the key drivers of WTI Oil price. As such, global growth can be a driver of increased demand and vice versa for weak global growth. Political instability, wars, and sanctions can disrupt supply and impact prices. The decisions of OPEC, a group of major Oil-producing countries, is another key driver of price. The value of the US Dollar influences the price of WTI Crude Oil, since Oil is predominantly traded in US Dollars, thus a weaker US Dollar can make Oil more affordable and vice versa.
WTI Oil is a type of Crude Oil sold on international markets. The WTI stands for West Texas Intermediate, one of three major types including Brent and Dubai Crude. WTI is also referred to as "light" and "sweet" because of its relatively low gravity and sulfur content respectively. It is considered a high quality Oil that is easily refined. It is sourced in the United States and distributed via the Cushing hub, which is considered "The Pipeline Crossroads of the World". It is a benchmark for the Oil market and WTI price is frequently quoted in the media.
US Crude (Daily Chart)
Crude Oil (WTI) trades at $86.02 per barrel, and Brent Oil trades at $89.42 per barrel at the time of writing. 
Oil news and market movers
The risk in the oil market over the Gaza crisis remains extremely fragile. With US President Joe Biden's possible visit to Israel, tensions could reemerge, and a spillover proxy war is still a possibility that could unfold. 
The recent build in the US Crude Stockpile is far from enough to avoid a multiyear low and might risk the supply chain across the US. 
The amount of Crude oil around the world being loaded in tankers that are stationary for at least seven days has fallen to 74.71 million barrels as of October 13. This is the lowest number since December. 
Several analyst reports have said there is currently a supply surplus going unused. If it were to come on line, this could squash any uptick in Crude prices quite quickly and keep it below $100 for an ample amount of time. 
Oil Technical Analysis: Gaza remains the key
On the upside, the support level near $88 is the first level on the bulls' radar. From there, the next level will be this year's high at $94. Should a substantial squeeze unfold with higher prices, look for $97.11, the high of August 2022.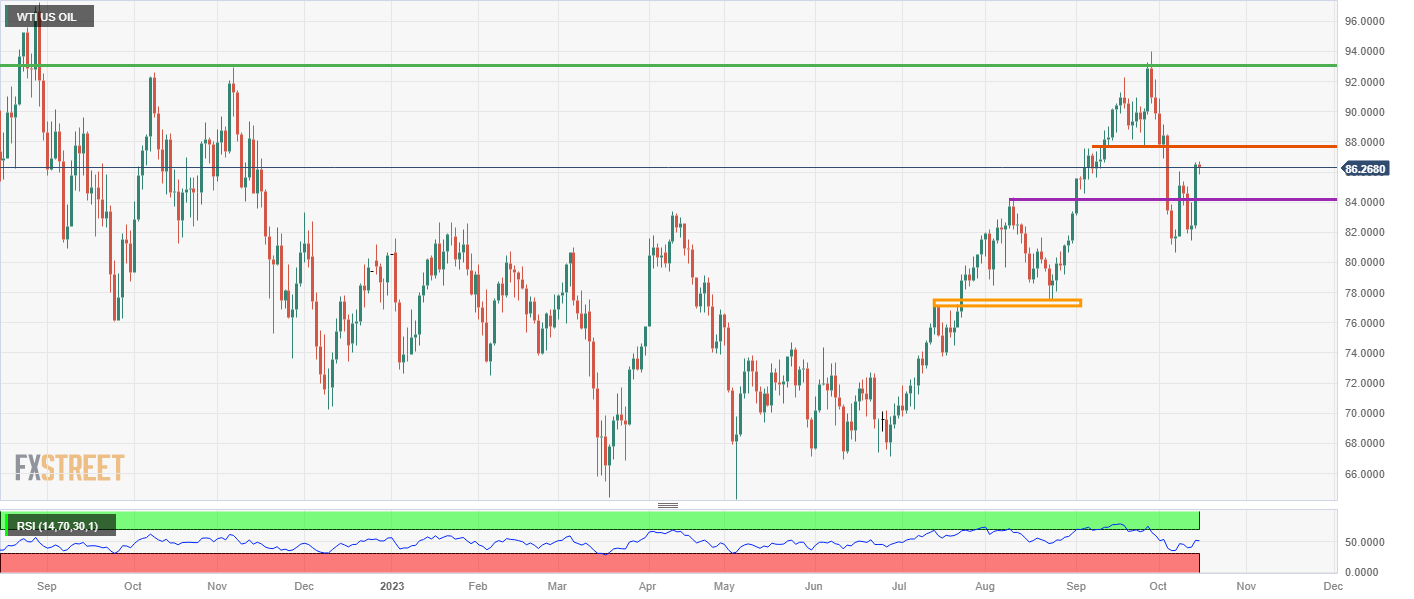 Meanwhile, the US Dollar (USD) recovering last week might leave traders and investors badly positioned to start this week. Headline inflation might have ticked up a touch, pressuring the market with rates soaring back to 52-week highs as a result. Although the US Dollar Index (DXY) eked out a weekly gain on Thursday and Friday, it was yet again a close call as the Greenback trade seems uncertain to continue on Monday.
Oil prices soared last week after the US imposed further sanctions on tankers carrying Oil from Russia. Meanwhile, several banks and analysts were quick to warn that any further spikes and overheating of the price could easily cool down by simply easing or lifting the recent supply cuts from Saudi Arabia and Russia. WIth production capacity surplus unused, expect that element now to work as a bearish signal for Oil prices, whereas only a few weeks ago it was acting as a catalyst for higher prices.    
Oil prices shot higher last week as the risk premium over the Israel-Gaza escalation expanded as Israel positioned itself to start its ground invasion in the region. Meanwhile, markets are struggling to send oil prices higher as Saudi Arabia could easily cap Oil prices with a surge in supply. The Oil market rests for now on a thin equilibrium that could witness knee- jerk reactions based on headlines to come
WTI Oil FAQs
OPEC (Organization of the Petroleum Exporting Countries) is a group of 13 Oil-producing nations who collectively decide production quotas for member countries at twice-yearly meetings. Their decisions often impact WTI Oil prices. When OPEC decides to lower quotas, it can tighten supply, pushing up Oil prices. When OPEC increases production, it has the opposite effect. OPEC+ refers to an expanded group that includes ten extra non-OPEC members, the most notable of which is Russia.

منبع: https://www.fxstreet.com/news/oil-recovers-in-difficult-market-conditions-202310160951

Share:

Oil (WTI) trades near $86 and looks likely to break back above $88.
The US Dollar closed out last week with another weekly gain, though the highs point to a retreat from the bulls. 
Oil could recover though the threat of recent supply cuts being lifted is a threat to further upside. 
On the downside, traders are bracing for the entry of that region near $78. The area should see ample support for buying. Any further drops below this level might see a firm nosedive move, which would cause Oil prices to sink below $70.