Share:

Nonfarm Payrolls for August provided data showing Fed may not require more hikes.
NVDA stock has been forming Japanese candlestick doji patterns late this week that demonstrate uncertainty among bulls.
Intel's Gaudi 2 chip is being called a competitor to Nvidia's H100.
Samsung signs deal to begin supply high bandwidth memory chips to Nvidia.
Nvidia's (NVDA) stock price edged over 1% lower during Friday's main session despite news from the US Bureau of Labor Statistics that should have had Wall Street cheering.
US Nonfarm Payrolls data for August arrived at 187K, which although higher than the 170K expected was not high enough (200K) to warrant renewed inflationary fears. More significantly, July's NFP results were revised down from 187K to 157K, and the Unemployment Rate rose from 3.5% to 3.8%.
The overall lacklustre labor market data means that the Federal Reserve has less reason to raise interest rates at its September or November meetings. Since higher interest rates are negative for businesses because they push up the cost of borrowing, the data should have been on balance positive for stocks. However, that's not how it played out.
Nvidia stock dropped to $488 after trending up above $497 earlier in the day. The NASDAQ Composite has drifted 0.2% so far in the session; and the S&P 500 is marginally down at the midpoint of the US session.
Nvidia stock news 
Nvidia has closed a deal with Samsung to buy the Korean company's HBM3 memory chips for use with its artificial intelligence-focused platforms and data centers. Samsung's stock advanced 6% in the Korean stock market as the report said Samsung would likely supply as much as 30% of Nvidia's High-Bandwidth Memory needs in 2024.
Until now, Nvidia has relied on SK Hynix for all its HBM3 chips used its A100 and H100 GPUs built for use in generative AI technologies. Another rumor says that executives from Samsung's foundry division are also in talks with the upper echelon of Nvidia to offer chip packaging services to the leading AI chip maker. Nvidia has been largely using Taiwan Semiconductor (TSM) for all its chip packaging demand, but the latter foundry is fully booked at the moment with hefty demand for AI-related chip manufacturing.
In a first broadside against Nvidia's lead among AI-focused semiconductors, Intel's (INTC) Gaudi 2 chip is being touted as a possible competitor. Hugging Face, the machine-learning platform provider, recently tested the Gaudi 2 chip against Nvidia's H100. While they determined that the H100 still wins on average across a broad range of AI workloads, they wrote in a blog post this week that the Gaudi 2 is as much as 41% faster when fine tuning vision-language models. 
This is because the Gaudi 2 utilizes in-chip hardware-based decoders to help the CPU in managing its workload before the computations are sent to the AI accelerator. Hugging Face's test shows that Nvidia may be leading the pack, but it will not be the only game in town for long.
NonFarm Payrolls FAQs
Nonfarm Payrolls (NFP) are part of the US Bureau of Labor Statistics monthly jobs report. The Nonfarm Payrolls component specifically measures the change in the number of people employed in the US during the previous month, excluding the farming industry.
The Nonfarm Payrolls figure can influence the decisions of the Federal Reserve by providing a measure of how successfully the Fed is meeting its mandate of fostering full employment and 2% inflation.
A relatively high NFP figure means more people are in employment, earning more money and therefore probably spending more. A relatively low Nonfarm Payrolls' result, on the either hand, could mean people are struggling to find work.
The Fed will typically raise interest rates to combat high inflation triggered by low unemployment, and lower them to stimulate a stagnant labor market.
Nonfarm Payrolls generally have a positive correlation with the US Dollar. This means when payrolls' figures come out higher-than-expected the USD tends to rally and vice versa when they are lower.
NFPs influence the US Dollar by virtue of their impact on inflation, monetary policy expectations and interest rates. A higher NFP usually means the Federal Reserve will be more tight in its monetary policy, supporting the USD.
Nonfarm Payrolls are generally negatively-correlated with the price of Gold. This means a higher-than-expected payrolls' figure will have a depressing effect on the Gold price and vice versa.
Higher NFP generally has a positive effect on the value of the USD, and like most major commodities Gold is priced in US Dollars. If the USD gains in value, therefore, it requires less Dollars to buy an ounce of Gold.
Also, higher interest rates (typically helped higher NFPs) also lessen the attractiveness of Gold as an investment compared to staying in cash, where the money will at least earn interest.
Nonfarm Payrolls is only one component within a bigger jobs report and it can be overshadowed by the other components.
At times, when NFP come out higher-than-forecast, but the Average Weekly Earnings is lower than expected, the market has ignored the potentially inflationary effect of the headline result and interpreted the fall in earnings as deflationary.
The Participation Rate and the Average Weekly Hours components can also influence the market reaction, but only in seldom events like the "Great Resignation" or the Global Financial Crisis.
Nvidia stock forecast
In a similar way to what happened one month ago, Nvidia is a gain seeming to crest higher at quite small intervals. Take a look at the two circles on the daily chart below. These types of candlesticks are typically called Dojis, and they are normally thought to show equivocation.
When three Doji-type candles happened in a row between July 28 and August 1, exactly one month ago, NVDA stock happened to fall from near $467 to $403 over the next two weeks. Though the Relative Strength Index (RSI) is not yet at overbought levels, a similar pullback trade could be in the offing. Take care.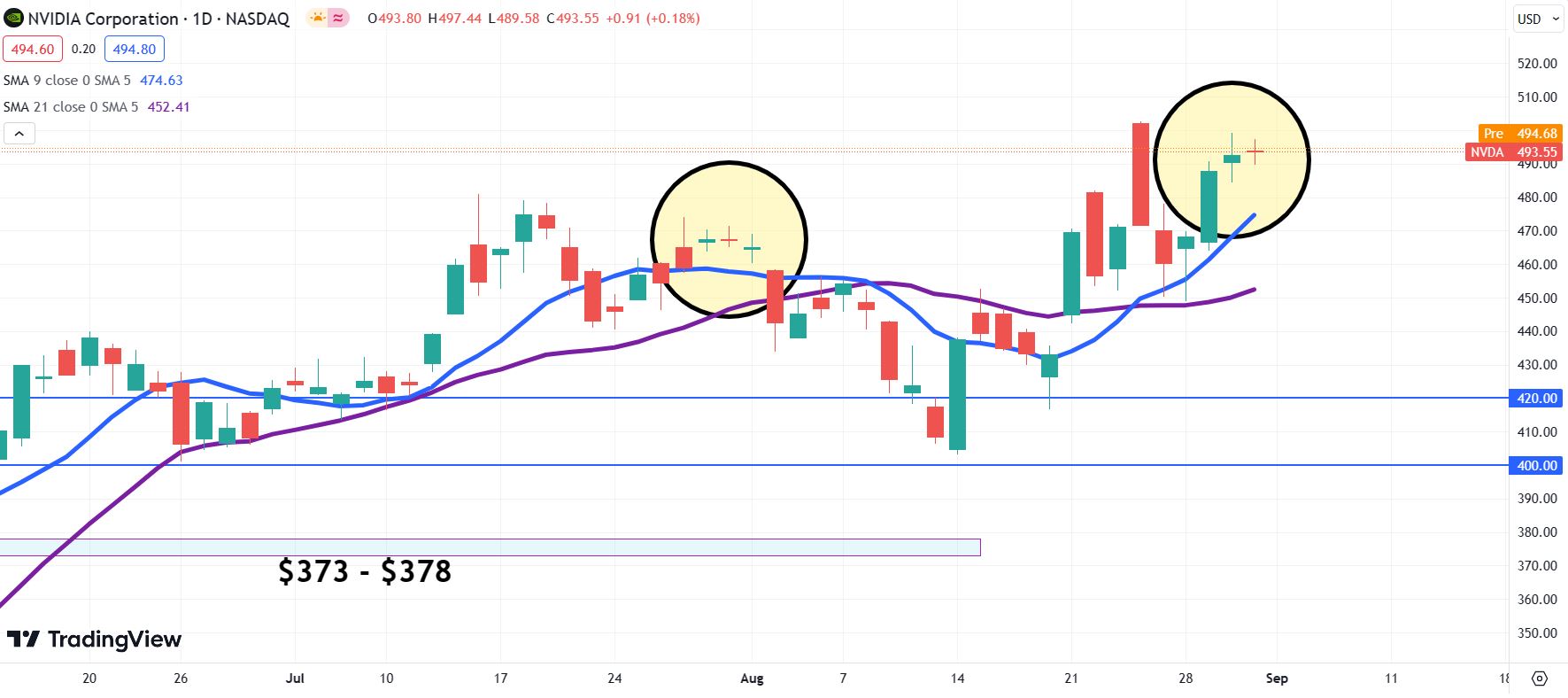 NVDA daily chart

منبع: https://www.fxstreet.com/news/nvidia-stock-forecast-nvda-drifts-sideways-ahead-of-nfp-results-202309011215