Share:

BABA stock loses 8%, moving below $80.
Revenue for the fiscal Q2 misses consensus by $230 million.
Management decides against spinning off the cloud business for now.
Alibaba issues a $1 annual dividend to holders of ADS shares.
Alibaba (BABA) stock has sold off 10%, driving closely to long-term support at $78. The market did not appreciated the Chinese e-commerce leader's fiscal second-quarter earnings results on Thursday. Alibaba missed the quarter's sales consensus by $230 million. Management has also decided against spinning off its cloud business due to US semiconductor restrictions.
The cash-strong company still introduced a dividend for foreign investors, who have been disappointed by the failure of BABA stock to rebound from a 75% sell-off that began more than three years ago.
US stocks are beginning Thursday's session at a loss following three straight days of optimism and even euphoria. Cisco (CSCO) and Palo Alto Networks (PANW) both traded lower in line with Alibaba as both technology stocks presented reduced guidance for the present quarter and the full year. Walmart (WMT) beat consensus on its quarter but warned of a slowdown in consumer spending beginning in the second half of October. This news rattled the stock market.
Alibaba Stock Earnings: Another earnings beat, another revenue miss
The good news was Alibaba's top line – $2.14 per share, which was 5 cents better than Wall Street Consensus. Adjusted earnings for owners of American Depositary Shares (ADS) rose 21% from a year ago.
Revenue rose 8.5% from a year ago to $30.81 billion but missed the consensus for $31.04 billion. It has become a common phenomenon for Alibaba to beat consensus for earnings but miss consensus for sales, which have largely consolidated around the $30 billion mark over the past three years. Management said that revenue was somewhat reduced due to Alibaba focusing on higher-quality revenue streams and giving up on lower-margin, project-based revenue.
Management also introduced a $1 annual dividend for ADS shareholders, which will be paid on January 18, 2024 for shareholders of record on December 21. This gives Alibaba stock close to a 1% forward dividend yield.
The most prominent news from management's quarterly release is that Alibaba will hold off on spinning off its cloud business following the Biden administration's new export controls for advanced computing chips. Management felt that the cloud segment would not be able to achieve a worthwhile valuation in a spin-off due to concerns about the US's new semiconductor policy.
Both its logistics segment, Cainiao, and its digital commerce segment are still in the process of raising external funding for a spin-off. During the fiscal second quarter, Alibaba spent $1.7 billion buying back 18.6 million ADSs.
S&P 500 FAQs
The S&P 500 is a widely followed stock price index which measures the performance of 500 publicly owned companies, and is seen as a broad measure of the US stock market. Each company's influence on the computation of the index is weighted based on market capitalization. This is calculated by multiplying the number of publicly traded shares of the company by the share price. The S&P 500 index has achieved impressive returns – $1.00 invested in 1970 would have yielded a return of almost $192.00 in 2022. The average annual return since its inception in 1957 has been 11.9%.
Companies are selected by committee, unlike some other indexes where they are included based on set rules. Still, they must meet certain eligibility criteria, the most important of which is market capitalization, which must be greater than or equal to $12.7 billion. Other criteria include liquidity, domicile, public float, sector, financial viability, length of time publicly traded, and representation of the industries in the economy of the United States. The nine largest companies in the index account for 27.8% of the market capitalization of the index.
There are a number of ways to trade the S&P 500. Most retail brokers and spread betting platforms allow traders to use Contracts for Difference (CFD) to place bets on the direction of the price. In addition, that can buy into Index, Mutual and Exchange Traded Funds (ETF) that track the price of the S&P 500. The most liquid of the ETFs is State Street Corporation's SPY. The Chicago Mercantile Exchange (CME) offers futures contracts in the index and the Chicago Board of Options (CMOE) offers options as well as ETFs, inverse ETFs and leveraged ETFs.
Many different factors drive the S&P 500 but mainly it is the aggregate performance of the component companies revealed in their quarterly and annual company earnings reports. US and global macroeconomic data also contributes as it impacts on investor sentiment, which if positive drives gains. The level of interest rates, set by the Federal Reserve (Fed), also influences the S&P 500 as it affects the cost of credit, on which many corporations are heavily reliant. Therefore, inflation can be a major driver as well as other metrics which impact the Fed decisions.
Alibaba stock forecast: BABA descends just above support at $78
Alibaba stock has formed a Doji candle just below the $80 handle an hour into the Thursday session. This is not too far above the $78 support structure that held up in both May 2022 and May 2023. If it fails to hold, that could send BABA stock back to the $58 and $64 support band that held up a major sell-off in October 2022. 
To regain interest from bulls, BABA needs to overtake the $82 support level and then upend resistance in the vicinity at and above $88.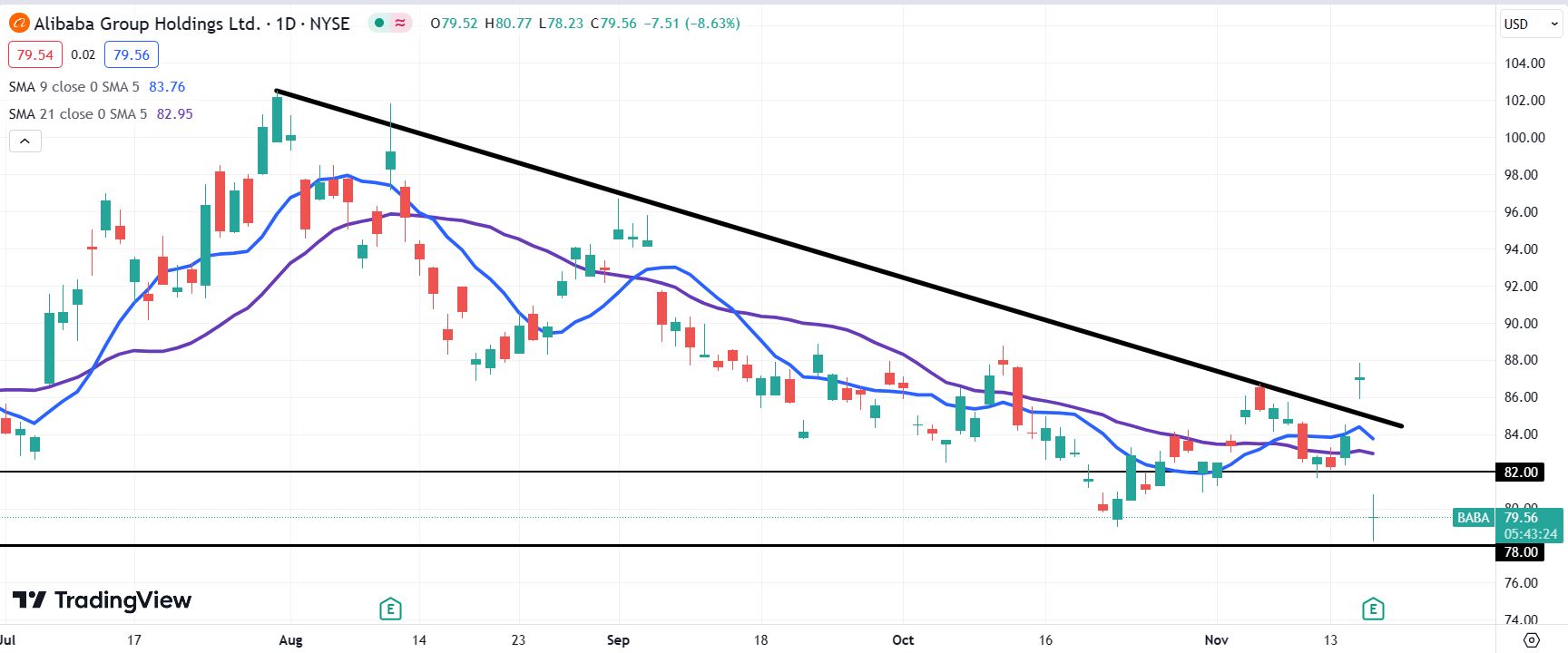 BABA daily stock chart

منبع: https://www.fxstreet.com/news/alibaba-stock-news-baba-tanks-on-revenue-miss-after-deciding-against-cloud-spin-off-202311161548